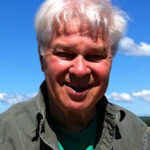 Jon Rowley's career has been a fascinating life-long exploration and quest to improve the flavor, quality and understanding of fish, shellfish, fruits and vegetables.
After travel to Europe and attending Reed College, Jon began his career as a commercial fisherman in Alaska. In 1981, as a life-long scholar of the seafood industry from harvest to table, he began consulting to restaurants, retailers, seafood companies and other businesses. Jon has received national marketing awards and considerable media coverage for programs he has initiated such as Bruce Gore's "Signature Salmon" and Copper River and Yukon River King Salmon.
Sparked by an Ernest Hemingway passage in the The Moveable Feast on eating oysters and a subsequent seminal platter of oysters at Le Dome in Paris, Jon developed a career-influencing passion for oysters. He does marketing and various consulting work for fifth generation Taylor Shellfish Farms and has organized restaurant oyster programs and promotions across the country. He produces the Pacific Coast Oyster Wine Competition, an annual dating service for West Coast wines and oysters.
In addition to his consulting and marketing work for seafood producers and buyers, Jon works with farmers, restaurants and retailers to improve the quality, flavor and distribution of fruits and vegetables. Anthony's HomePort's seasonal, local strawberry program based on just-picked local berries and the much-acclaimed Metropolitan Market's Peach-O-Rama promotion are examples of this work. He is also an accomplished forager of wild mushrooms and other wild foods.
Jon has taken a personal interest in reviving American heirloom apples. To give expression to several years of research on heritage apples, Jon embarked, with his wife Kate McDermott, on what turned into a two year quest to develop the "quintessential American apple pie". Mission accomplished, Jon and Kate co-founded Art of the Pie.
A perceived correlation between organic matter in soil and flavor led Jon to the Seattle Master Composter training, several courses on soil and soil ecology and to the Interbay P-Patch Community Garden where he served as Site-Coordinator. His work at Interbay has been featured in a number of publications including the Christian Science Monitor and Organic Gardening. One of his proudest accomplishments was the Seattle P-Patch Program's "Most Beautiful Vegetable" award for his P-Patch grown leeks in 1999.
Jon was inducted into the prestigious "Who's Who of Cooking in America" in 1987 for his work improving seafood handling, quality and information. He served as a Contributing Editor to Gourmet magazine and currently serves a Contributing Editor to SAVEUR. He was the recipient of the Seattle Weekly's first annual Angelo Pellegrini Award and is a member of the Shaw's Crab House's Oyster Hall of Fame in Chicago.
https://twitter.com/oysterwine.com
https://www.facebook.com/0ysterman/
What would it take for you to walk away from a lucrative banking career to pursue a passion? For Joan Coukos it was the allure of chocolate.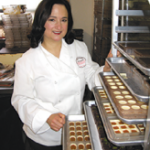 Joan majored in Russian and French at Duke University and received an MBA from UNC Chapel Hill before beginning a banking career that spanned New York and Moscow. On a trip to Brussels in 2000, she fell under the spell of old world, hand made chocolates and began creating recipes back in her tiny Manhattan kitchen. Her bank coworkers became the first enthusiastic guinea pigs, and upon receiving repeated accolades, she began taking formal steps to becoming a chocolatier, studying chocolate and confectionery arts with a coterie of world-class French, Belgian, American and Swiss chocolatiers in New York and at The World Pastry Forum in Las Vegas.
In 2003, she founded Chocolat Moderne® with a mission to create visually stunning, hand-crafted confections filled with perfectly balanced, on-trend flavors. Joan believes that chocolate will always be in style – especially luxe gourmet chocolate. Like fashion design, Chocolat Moderne's chocolate assortments are a vibrant, ever-changing, delectable collection wrapped in distinctive packaging.
It starts with a base of quality ingredients: Valrhona French chocolate with a high cocoa content and emphasis on growing regions; European style butter; cocoa butter; full cream; granulated pure cane and specialized confectionery sugars. Then you add luscious fillings such as five different varieties of dark chocolate, pistachios, hazelnuts, fruit purees, fruit preserves, premium liqueurs, honey, essential oils, teas, spices, fresh squeezed citrus juices and zest. The chocolates are covered with extra bitter dark chocolate of 61% cocoa content. Everything is natural and free of preservatives or artificial flavors.
Chocolat Moderne® has received top honors in the specialty food industry by winning multiple sofi™ Gold and Finalist Awards from the Specialty Food Association. Joan's chocolates and her personal story have been featured on The Oprah Winfrey Show, The Food Network and The Cooking Channel. In 2013, Joan was inducted into the NY Chapter of Les Dames d'Escoffier International, a philanthropic society of women leaders in food, beverage and hospitality. Later that year, she was named one of Dessert Professional Magazine's Top Ten Chocolatiers of North America.
How sweet it is!
http://www.chocolatmoderne.com
https://twitter.com/chocolatmoderne.com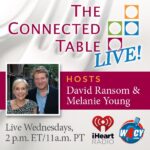 Join Hosts Melanie Young and David Ransom, the Insatiably Curious Culinary Couple, Wednesdays 2pm ET/11 am PT on The Connected Table LIVE! Each week we bring you the dynamic people who work front and center and behind the scenes in food, find beverage and hospitality.
Tune in live: www.w4cy.com
Listen on demand anytime/anywhere: www.iHeart.com (under Shows and Personalities)