An early spring visit to Utiel-Requena in eastern Spain provided an immersion experience in Bobal, a voluptuous grape that makes full-bodied red wine and refreshing rosés.
We stayed in the historic part of Requena, the center of the Utiel-Requena wine route. The old town is a quiet maze of small plazas lined with cafés and shops and crooked, narrow streets, barely navigable by car. Notable sites include the large fortress, landmark churches (Iglesia Santa Maria and Iglesia de El Salvador are both national monuments), a wine museum located in the 15th century Palacio del Cid, and a silk museum (Casa del Arte Mayor de la Seda). Requena and nearby Valencia used to be a center for silk production. We stayed in the Hotel Doña Anita, which has a small café and is well-located for exploring the local attractions by foot.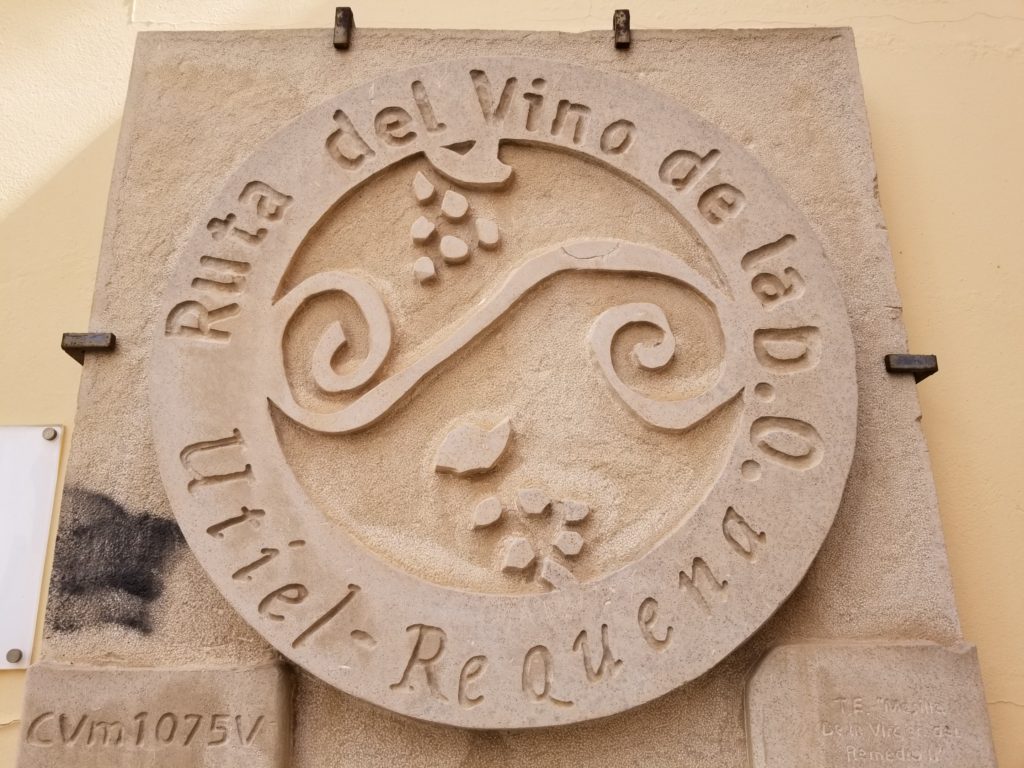 Utiel-Requena: Ancient Wine Roots and Wine Route
Utiel-Requena is located on a high plateau between 1,950 and 2,950 feet above sea level and 70 kilometers from the coast of Valencia (which is both a province as well as a city). The hyphenated name Utiel-Requena represents the region's two principal municipalities; there are nine in total. Most vineyards are located between two rivers, the Turia and Cabriel; the climate is Mediterranean with a continental influence due to the higher altitude. When I was there in late March it was chilly and windy with bright sun.
The D.O. Utiel-Requena was established in 1932; however, wine production dates to 7th century BC, more than 2,700 years ago, according to archaeologists who discovered fragments of Phoenician amphorae in the Iberian village of Villares de Caudete (also known as Kelin). Other evidence of early wine making can be seen at Las Pilillas, where ancient stone ruins remain from wineries dating back to 1 BC. Walking the paths, one may still find shards of small shards of amphorae.
The closest big city is Valencia which is worth a few days' visit. Valencia is the third largest city in Spain and a major port. It's also the center for enjoying of one of Spain's most well-known dishes, paella, which was brought over by the Moors from Africa when they invaded the Iberian Peninsula in 711 A.D.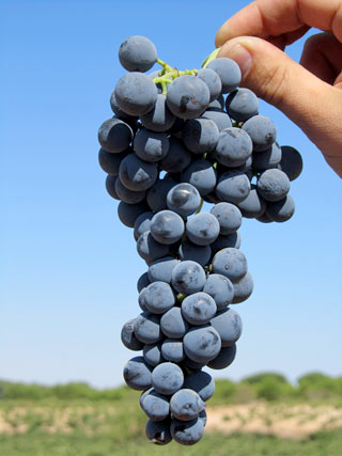 Bobal: A Voluptuous Grape
The name Bobal refers to a "bull's head" which resembles the shape of the grape clusters. I couldn't help but compare the word to "bulbous," which the grape is. It is the third most widely planted grape in Spain after Airen and Tempranillo. Seventy-five percent of grape production in Utiel-Requena is Bobal; the varietal is also cultivated in the D.O.'s Alicante, Manchuela, Murcia and Valencia. Its cousin is Bovale, cultivated in Sardinia, and Nieddera in France. Bobal is a hearty grape that can grow well in poor soil, usually on bush vines or trellis. Thanks to Utiel-Requena's higher altitude, this area had numerous pre-phylloxera vines. More than 50 percent of the vineyards have vines that average at least 40 years, and some more than 100 years-old.  We were there weeks before bud break, and the low, gnarly vines resembled wizened hands stretching out from the soil, which is predominantly alluvial and clay with limestone.
Bobal is less reductive than Tempranillo and contains high tannins and polyphenols. It is harvested later than Tempranillo around the same time as Cabernet Sauvignon. The red wines are usually full-bodied with dark cherry, blueberry and cacao notes, with hints of clove and thyme. Bobal contains no pyrazines, a compound which can add a slight vegetal character to some red wines. Eighty percent of the Utiel-Requena's Bobal wines are exported. Interestingly, Japan is a large market for Bobal wines. Many are available in the U.S.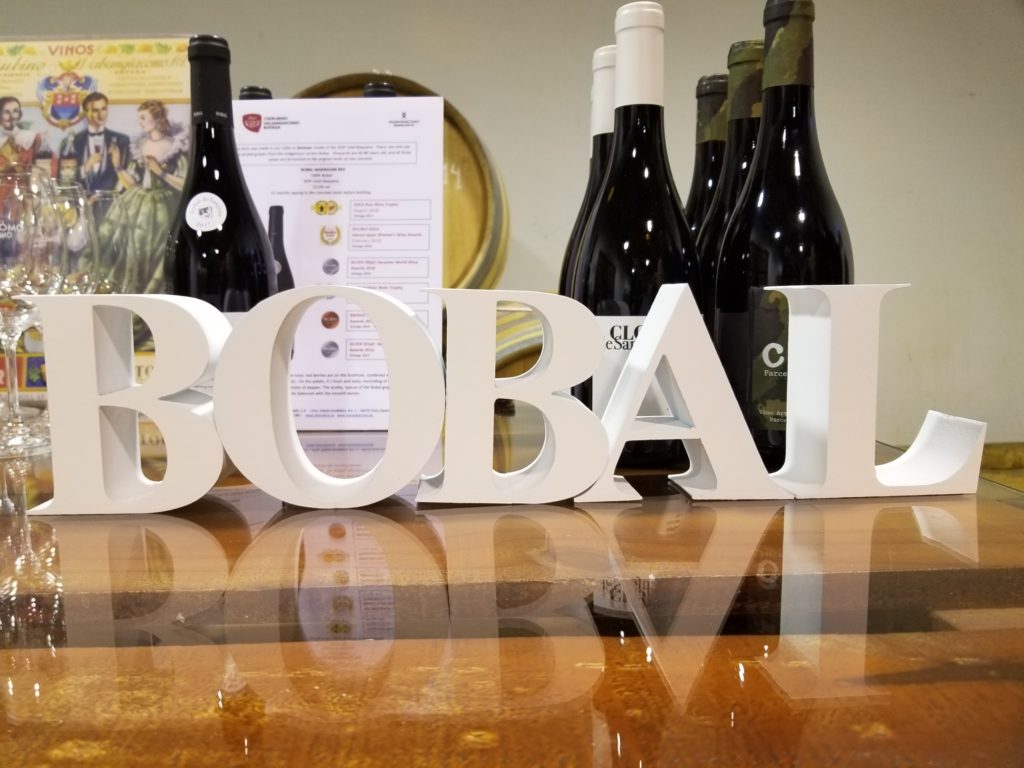 Bobal: The wines
There are two key designations for Bobal wines. "Bobal Alta Expression" is reserved for single varietal wines, with or without oak aging. Under this designation, the vineyards must be at least 35 years with lower yields, and no irrigation is allowed. "Bobal with Specific Mention" is for rosé wines and other 100 percent Bobal wines. One may find "Aged," "Reserva," "Gran Reserva," "Superior," "Early Harvest," and "Barrel-Aged" with mention of Utiel-Requena on any rendition of the wines.
During our visit, we tasted many expressions of the Bobal grape including a sparkling Blanc de Noir from Pago de Tharsys, the first and only winery to make a sparkling Bobal wine.
Here is a rundown of the wineries we visited and some observations:
Bodegas & Viñedos Ladrón de Lunas: The name of this winery which translates to "moon thief" is tied to its underground caves lined with giant amphorae, the traditional ways the wines have been made. Fernando Martinez, sixth generation winemaker, shared the story behind the name "Ladrón de Lunas" which, just a hint,  involves love, a promised kiss, a broken heart and murder.  I enjoyed the the Ladrón de Lunes Exclusive LDL. www.ladrondelunas.com
Pago de Tharsys: Founded in 2002, the winery is a Pago, which indicates "wines of unique character." We started with an organic barrel-fermented Chardonnay called Ana Carlota Suria 2017, named after the owner's wife. I loved this wine lemony-verbena notes and slight creaminess due to the two months of aging in French oak. I also enjoyed the sparkling "Único Brut Reserva" a blanc de noir made from 100 percent Bobal, made in the methode traditionelle style. We tasted three vintages; a 2015 aged 36 months in bottle before disgorging; a 2014 Brut Reserva aged 48 months in bottle before disgorging; and a 2013 Brut Reserva aged 40 months in bottle before disgorging and then another 24 months in bottle before release. All had soft Asian pear apple essence and crispness and more toasty characters with aging.  www.pagodetharsys.com
Bodegas Vibe: The owner of this winery runs a catering business and restaurant named Contrapunto in Valencia. Naturally the focus is making food-friendly Bobal wines. We also had the chance to taste a delightful aromatic white wine named Parsimonia made from the Tardana grape, which is also native to Utiel-Requena. This grape ripens late; thus, the name which is derived from the Spanish word for late – tarde. Our tasting in a private home was led by Raúl Vincent Bezjak, son of the owner, and winemaker, Juan Carlos Garcia.  The 2017 100 percent Bobal was silky and spicy with intense plum, blueberry and cacao notes. www.bodegasvibe.com
Bodega Cherubino Valsangiacomo: Marta Valsangiacomo, fifth generation family member led our tour. The family was from the Italian side of Switzerland where they started a winery in 1831 in the canton of Ticino. It grew into a larger wine production and export company. In 1997, the family relocated facilities and headquarters to Utiel-Requena. Its San Juan vineyards, located on a plateau 750 meters above sea level, have vines averaging 40 to 60 years old; however, we also saw some 100-year-old vines. www.valsangiacomo.es
Chozas Carrascal: This winery, opened in 2002, is surrounded by large bronze wine-themed sculptures. It contains an impressive collection of more than two million wine labels from around the world carefully cataloged in its museum-like lobby. Chozas Carrascal's wines are 100 percent certified organic. Winemaker Julián López Peidro, grandson of the founder, led us through a tour and tasting, noting that  Chozas Carrascal is the first winery in the region to produce its wines in concrete (since 2003). I was partial to the lush Los Ochos, a blend of eight grapes: Bobal (30%) then percentages of Monastrell, Garnacha, Tempranillo, Syrah, Cabernet Sauvignon, Cabernet Franc and Merlot. www.chozascarrascal.es
Dominio de la Vega: This winery is run by a father and son, Emilio and Daniel Exposito, who worked as grape growers for many years before establishing their own winery in 1992 in an 18th century estate. They produce wines from three vineyards. We started off with a delightful sparkling wine made from Sauvignon Blanc aged 13 months before moving into the Bobal wines. The Mírame 2018 rosé was a spicier style made from Bobal and Pinot Noir. We tasted several vintages of Finca La Beate 100 percent Bobal, including a 2016, 2012 and 2006, demonstrating how nicely wines made from this varietal can age.  www.dominiodelavega.com
Coviñas: Established in 1965, Grupo Coviñas is the largest winery in the Utiel-Requena region representing a cooperative of 3000 farmers. Our host, Manolo, compared Bobal to "a mix between Pinot Noir and Cabernet Franc, noting it is a wine that doesn't check you out." Our tasting, held in the bell tower at the Fortress included a variety of wines. I was taken by the Aula Rosé made from 100 percent Bobal, for it refreshing melon notes. Another pleasant easy drinking wine was the oak-aged 2018 Authentico 100 percent Bobal. www.covinas.com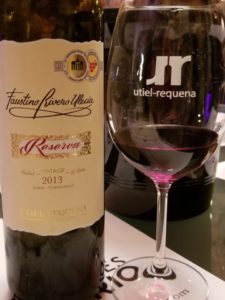 Marqués de Atrio: This winery was founded by the Rivero family in the late 19th century and is now majority-owned by Changyu, a Chinese corporation. The family also produced wines in Rioja, Navarra and Rías Baixas. This tasting rook place in another underground cellar by candlelight. The best-selling wine is called Faustino, a blend of 90 percent Bobal and 10 percent Tempranillo, aged in French oak for 15 months. I was partial to the 2013 Faustina Reserva. www.marquesdelatrio.com
Bodega Sierra Norte: Tasting these wines in the vineyard under tree on a brilliant sunny day was the perfect finale to our tour. The vineyards had some of the rockiest soil I had ever seen, which we all navigated delicately as we walked through them to the tasting led by winemaker, Manolo Olmo, and Export Director Ricardo Calatayud. Bobal was first planted in 1914, and the winery was one of the first to produce certified organic wines. I was particularly intrigued by this winery's Pasión rose, www.bodegasierranorte.com
This trip was hosted by the Consejo Regulador for D.O. Utiel-Requena.