David and I are big fans of the Hawaiian island Maui, We are longtime Starwood Vacation Property owners at the Westin Kaanapali, and we try to visit at least once a year. While many people who visit Maui hang out on the beach or enjoy the multitude of water sports, we like to venture upcountry around the slopes of Haleakula and beyond to visit the local farms, hike and explore the cowboy town of Makawao.
A trip to upcountry often includes a visit to Beverly and Joe Gannon's Hali'imaile General Store for lunch or a drink at the bar (voted the best Mai Tai on the island). It is a "must stop" on Maui's culinary trail.  Just a 15 minute drive to Maui's airport, we try to make an early dinner at Hali'imaile General Store before boarding the late night flight home.
Beverly Gannon is one of the 12  founding members of the Hawaii Regional Cuisine Movement and a multi-award winning chef whose acclaimed restaurants include the aforementioned Hali'imaile General Store, Gannons Restaurant in Wailea and  Joe's Nuevo Latino in Kihei. She also runs an extremely successful catering company
So how did a nice Jewish girl from Dallas, Texas, and a former road manager for Liza Minelli, Joey Heatherton and Ben Vereen end up cooking "eclectic American cuisine with Asian overtones" in a former pineapple plantation country store in upcountry Maui? And what does the word "Hali'imaile" mean?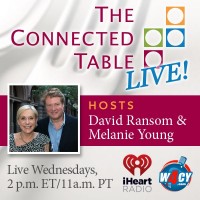 Hear Beverly's story from our July 1st interview on The Connected Table LIVE on iHeart.com and the iHeart App. – Melanie Young, June 30, 2015. 
Here's the link to cut and paste:
http://www.iheart.com/show/209-The-Connected-Table-Live/?episode_id=27277977
Connect:
Hali'imaile General Store    Gannon's    Joe's Nuevo Latino   Celebrations Catering