Our Story Started With Wine
Wine has been fruitful to our lives. We both come from wine backgrounds thanks to our fathers. We met at a wine and food event in New York City in 1990. And after many years leading separate lives, we reconnected at wine dinner in 2003. It was a great match!
Melanie Young, A Fearless Fabulous Life
Melanie says her first wine education event was at the age of 15. "My dad was a wine educator in Chattanooga, Tennessee, for more than 30 years and taught me to taste and drink both well and responsibly. For a public speaking class at my high school, I decided to teach fellow students how to open and serve a bottle of wine. I came to school that day wearing my tastevin around my neck and carrying a bottle of wine. A lineup of teachers stood in the back of the classroom watching me with interest as I started to demonstrate my special skill. The thing is, being underage, they would not let me open the wine!"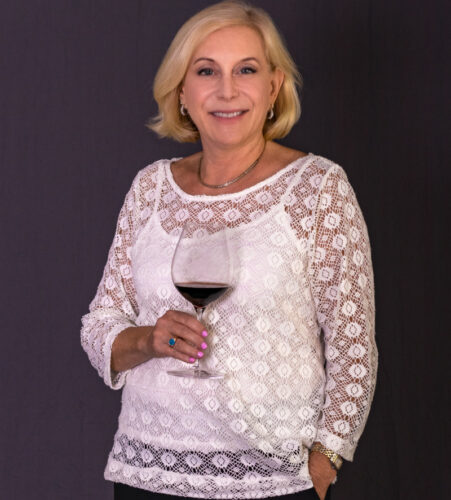 Melanie is a Certified Specialist of Wine whose articles on wine,  food and wine travel have been published in  Wine Enthusiast, Wine Industry Advisor, Seven Fifty Daily, Wine4Food, The Epoch Times, Santé Magazine and several food industry trade outlets. (More published articles here). Her goal is to help wine curious consumers feel more empowered and adventurous when purchasing and pairing wines for enjoyment.
Melanie is also a Certified Holistic Health Coach who is active in numerous initiatives to support women's health, promote healthy eating and fight food insecurity and food waste. Her articles on healthy living have appeared in LIVESTRONG, Huffington Post Healthy Living, Jewish Week.  and several women's health magazines. Learn more here: www.melanieyoung.com.
Melanie is a member of Les Dames d'Escoffier International, the Wine Media Guild. She has spoken and/or moderated panels on career reinvention, building your brand and women in the industry,
She's Made Quite the Impact on the Industry
Owner of her eponymous public relations and culinary events business for 20 years, M. Young Communications (1989-2011), Melanie was responsible for the development, launch and management for 16 years of the prestigious James Beard Foundation Awards, the culinary industry's preeminent honors, and New York Restaurant Week, the nation's largest restaurant hospitality promotion. Her agency produced Bon Appétit Magazine's Wine & Spirits Focus tour in every major U.S. city for more than a decade, and she helped launch the Windows of Hope Family Relief Fund to raise money for families of food service workers killed in the September 11th terrorist attacks at World Trade Center. Her agency She consulted for several wine regions, trade associations and producers in Spain, Italy, and France and Crete.
An Advocate for Women in Entrepreneurship and Health
An advocate for independent women entrepreneurs, Melanie provides media training and business consulting to help women launch and promote their businesses. She has been featured in many media outlets on the topic of entrepreneurship and life/career reinvention.
She is author of Getting Things Off My Chest-A Survivor's Guide to Staying Fearless & Fabulous in the Face of Breast Cancer (Recipient 2014 International Book Award or cancer health topics) and Fearless Fabulous You!- Lessons on Living Life on Your Terms (2015 Finalist USA Best Book Award, Motivational topics)
She hosts the national radio show for women, "Fearless Fabulous You!," Wednesdays, 12 noon EST on W4WN-the Women4Women Network and on demand at iHeart Radio iHeart App, Spotify, Pandora, iTunes and dozens of other podcast platforms.
Follow Melanie at: Twitter@mightymelanie  |  Instagram@melaniefabulous