Sixty years is a milestone for any business and especially when it is a winery. Even more interesting is when the winery is located in New Zealand, which is still considered a "new world" wine region. Many of the country's earliest grape growers were immigrants from Croatia with the biggest wave arriving between 1890 and 1914. This included the Fistonich family. That is where the story of Sir George Fistonich and the birth of Villa Maria begins.
In 1961 at the age of 21, George Fistonich leased land in from his father and planted his first acre of vines in Auckland with the goal of making quality wine, accessible to many. From those humble beginnings, Villa Maria expanded to three wineries throughout the country. It is New Zealand's most awarded winery with more than 2000 accolades. In 2009, Sir George Fistonich was knighted in recognition of his service to the New Zealand wine industry, a first in that nation.
Villa Maria's winemaker, Tom Dixon started as a cellar hand in 2013. "Villa Maria one of the few wineries making wines in every production region of New Zealand. We are based in Auckland on the North Island. On the east coast in Gisborne, we grow Chardonnay and Pinot Gris; just south in Hawkes Bay we produce Bordeaux style reds and Chardonnay. The South Island in Marlborough is where we make out Sauvignon Blanc and Pinot Noir," he explained.
Villa Maria's Sauvignon Blancs take center stage. We tasted the Villa Maria Private Bin Sauvignon 2021, Marlborough (SRP $16.99). The wine's flavor notes blend citrus and tropical fruits with lemongrass, fresh herbs and a whiff of bell pepper. Dixon explained that Villa Maria sources its Sauvignon Blanc grapes from two vineyards to achieve this balance of flavor.
"The Wairau Valley in Marlborough has a warmer climate and more fertile soils which bring out the tropical fruit character. In the Awatere Valley the climate is cooler, drier, windier and the soils are poor, resulting in wines with more vegetal character such as snow peas and grass. With the Private Bin Sauvignon Blanc, we aim for a 50-50 split so you can taste a lovely intermingling of both tropical and herbal notes," he noted.
Villa Maria is also recognized for its sustainability platform based on four pillars: Respect the land. Tread lightly. Invest in people. Inspire conscious consumers. "By caring for the land and focusing on preservation, we benefit by making better wine. By investing in people, we have a committed team who shares our mission. Our passion and desire to be sustainable and responsible we want to inspire others to do the same," he said.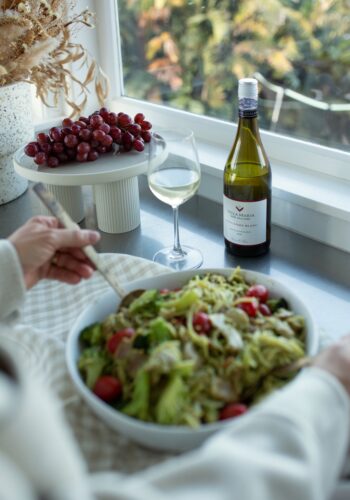 We recommend pairing Villa Maria with plant-based dishes, salads, grilled fish, mussels frites,  papaya salad or pad Thai.
The wines are imported in the U.S.A. by Winebow. Connect: www.villamariawines.com IG: @villamariawines
Listen to our SIPS podcast with Tom Dixon here: