Considered one of the world's great wine regions, France's Alsace has long been a player on the international stage with its exceptional still and sparkling wines. With 12 generations at the helm, the Cattin family has been at the center of this region's wine production since 1720.
France, you say, has many wine regions, so what sets Alsace apart? While France does boast a large number of regions devoted to making wine, most are warm climate areas where red wines dominate. Alsace, with its moderate climate and northerly geographic position next to Germany, is known for its production of white wines, and so holds a special place in the often-complicated world of French winemaking. Let's take a closer look.
Domaine Joseph Cattin (www.cattin.fr) is the largest independent family-owned winery in Alsace and is located in the small village of Voegtlinshoffen, just South of Colmar. Now run by husband-wife family members, Jacques and Anaïs Sirop Cattin, the winery makes wines across the full spectrum of what Alsace offers, with particular emphasis on Riesling, Gewurztraminer, Pinot Blanc, and their self-professed specialty, Crémant d'Alsace sparkling wine – all of which are widely available in the U.S.
The family currently owns just over 160 acres of vines throughout the area, and like a majority of Alsace producers, farms their vineyards organically. "We've been farming this land for 12 generations," said Anaïs Cattin, "by farming our vineyards sustainably, we have a better chance to ensure this winery will produce for the next twelve generations." Cattin's wines, all certified vegan, by the way, are produced in two separate wineries, one for still wines , the other dedicated exclusively to the production of Crémant d'Alsace.
Cattin's whites are textbook Alsace wines, with each expression showing true varietal character whether made as AOC classified wine or coming from specific "Cru d'Alsace" vineyards – those next level properties showing unique terroir that are designated as the best vineyards in Alsace. A hallmark of Alsace wines is their beautiful compatibility with food. "While they can be consumed anytime, these are food wines,' said Jacques Cattin, "their weight, acidity, and depth of flavor all condone pairing with not just the local cuisine of Alsace, like our famous choucroute, but with a variety of other foods, including cheeses, meats, and even fish."
Crémant d'Alsace, sparkling wines made in the Méthode Traditionelle, are vinified in the same way as Champagne, but utilize the grapes varieties of Alsace in addition to those traditionally used for making champagne. The most popular styles are Brut, usually made with local white grapes but can also include Chardonnay; and Brut Rosé, which can only be made with Pinot Noir.
"Alsace's dry climate and cool evenings during the growing season create the perfect combination for giving our grapes the acidity needed to make excellent sparkling wines," said Jacques of his family's Crémant d'Alsace. "And not having to rely exclusively on Chardonnay and Pinot Noir, two of the industry's most expensive grape varieties, allows us to make wines of individuality and also keep costs in check, which in turn allows us to provide wines of great value for the price."
With most Crémant d'Alsace wines priced at under $25, it's a win-win in our opinion, and helps make Crémant d'Alsace Brut and Rosé some of France's best sparkling wines.
Cattin wines we tasted; all available in the U.S.A.  Imported by T. Edwards Wines.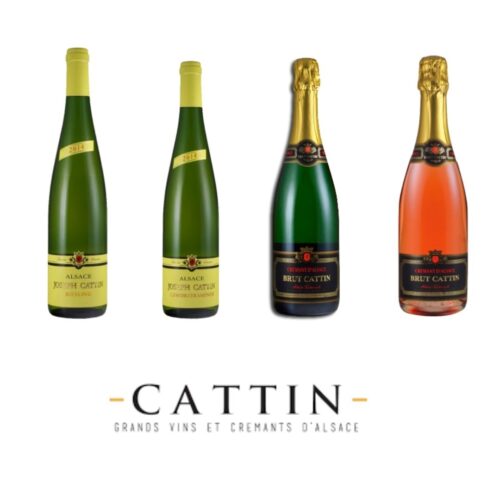 Riesling AOC Alsace 2018, SRP: $17. Appearance: bright and pale yellow with green reflections. Nose: mineral with citrus flowers. Palate: fresh, dry and mineral, with grapefruit flavors. Pairings: sushi, choucroute, goat cheese.
Gewurztraminer AOC Alsace 2017, SRP: $18. Appearance: clear, pale gold. Nose: perfumed nose with lychee and mango aromas and a delicate touch of rose water. Palate: ripe exotic fruits with floral notes; well-balanced between spiciness and freshness; a long-lasting finish. Pairings: curries, chicken or vegetable chili, strong cheeses (e.g., real Munster cheese from Alsace).
AOC Crémant d'Alsace Brut, SRP: $22. Appearance: bright pale gold; fine bubbles. Nose: fresh; green apple and white flowers. Palate: fresh and dry palate; lively acidity balanced with fruitiness of green apple and lemon; fine and creamy bubbles. Pairings: apertif, fish, white meats.
AOC Crémant d'Alsace Rosé, SRP: $20. Appearance: clear; elegant salmon pink; abundant and dynamic bubbles. Nose: fruity especially red fruits such as cherry and black currants. Palate: refreshing and creamy with fruity aromas such as strawberries and lemon. A clean and long lasting finish. Pairings: spicy Asian  dishes, fruit desserts.
Listen to The Connected Table Sips with Jacques and Anaïs Sirop Cattin