posted by Melanie Young
In Tennessee we have special terms to measure distance like "yonder," "up the road" and "down a ways." This can mean anything from a short drive or a long haul.
Just up the road about an hour or so drive north of my hometown Chattanooga, Tennessee, is Benton's Smoky Mountain Country Ham in Madisonville. Some of the nation's best country ham and bacon comes this relatively small facility in operation since 1947. It's easy to pass by the unassuming building  when you're driving along the highway. But you'll never pass up a serving of Benton's ham and bacon once you have a taste.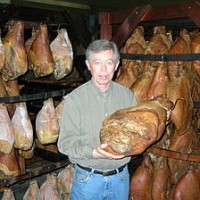 I first discovered Allan Benton thanks to my mother, Sonia Young. She promised Chef Daniel Boulud a Tennessee country ham one night after a particularly indulgent dinner at Restaurant Daniel in New York City. After we sent Chef Boulud a Benton's ham we made it our tradition to send thank you hams to every chef who took care of us at a dinner in their restaurants.  Over the years I'd send packets of Benton's bacon to friends and colleagues as thank you gifts.